CALL IN TO COMMENT ON THE Nuclear Regulatory Commission draft Environmental Impact Statement for 
Supposedly "Interim" Nuclear Waste Dump and Massive Transport Across the US for Decades
Oct 1, 6, 8, 15th
We have 4 Chances left to let the Nuclear Regulatory Commission know we don't want nuclear waste moved across the country for 40 years to a supposedly temporary site! They refuse to wait until after COVID 19 crisis and hold in-person meetings in TX or along the routes to get the waste there.
Please call in on Oct 1, 6, 8 and/or 15th. TEXANS are asking for AS MANY AS POSSIBLE TO CALL IN THIS THURS OCT 1st 
Please Call in to the Nuclear Regulatory Commission's "Public Meeting" on the 
draft Environmental Impact Statement for the proposed HIGH LEVEL NUCLEAR WASTE SITE in Andrews TX this  
THURSDAY OCT 1st 
from 6-9 PM eastern/ 5-8 PM central/ 4-7 PM mountain/ 3-6 PM pacific/ 2-5 PM alaska
Talking points below
CALL IN NUMBER  (888) 989-9268 Pass Code 5300047#   TO get in line to speak PRESS *1 and give your name.
Here is the Link to see the power point slide Webinar: URL  https://usnrc.webex.com/ Meeting Number 199 125 5213    Password  ISPDEIS
(They might post a link to download the powerpoint in advance so we can download it in advance and not have to join by computer webex but they might not.)
The first 30-40 minutes will be a power point presentation by NRC describing that all environmental impacts are small or moderate 
[even though it is from bringing in and storing the majority of the radioactivity in the nuclear power and weapons complex...
they won't be mentioning that it's such an enormous part of the nuclear waste generated in the country since the dawn of the nuclear age 
but they will tell us it can't possibly have a Large Impact]
Then public comments usually 2-3 minutes each 
All previous NRC calls have had people who want to speak Push *1 to get in the queue. You can do this at any time-the sooner you do it the sooner you get to speak at least in theory.
The 4 meetings are
THURS OCT 1 from 5-8 Central Time
TUES OCT 6 from 1- 4 Central Time
THURS OCT 8 from 5-8 Central Time
THURS OCT 15 from 10-1 Central Time
TALKING POINTS
Waste Control Specialists/ Interim Storage Partners propose bring in 40,000 Metric Tonnes of irradiated ('spent") nuclear fuel- the hottest waste in the nuclear power and weapons fuel chain....this is the waste from the cores of nuclear power reactors which can give a lethal dose unshielded in minutes and which will stay dangerous for more than 1 million years. The Draft Environmental Impact State for this proposal is here

Illegal-- CIS or Consolidated "Interim" Storage Facilities are illegal under federal law. Under the law, no "interim" or "temporary" storage site is allowed unless there is a final repository is operating...because the site would become de-facto permanent although not designed or licensed for permanent isolation of the waste
EJ- Sending the most deadly waste in the country to communities of color clearly violates Environmental Justice Principles. This region is largely Hispanic. Public Citizen and Lone Star Legal Aid did analyses showing that the people in the region would be disproportionately impacted. 
Transport across the country is through poorer communities, often communities of color so the movement of the waste for decades puts them at greater risk--and all of us who travel on roads, rails and waterways and live and work near transport corridors are being put at risk with no input. Requests for public meetings along the routes have been rejected so the project can move quickly despite the COVID 19 crisis hitting the whole country and poorer and people of color more so.
Synergistic effects of other facilities and industries  The proposed site is next 2 other operating nuclear facilities--Waste Control Specialists is a burial ground for nuclear waste and LES Urenco enriches uranium using dangerous chemicals. It is also in the Permian Basin home to the largest deposits of oil and gas in North America thus home to oil and gas drilling, fracking and processing. 
Effect on Water The TCEQ (TX Commission on Environmental Quality) technical team evaluating the neighboring waste site Waste Control Specialists Texas (WCS) unanimously recommended against the license and TO NOT TO PUT NUCLEAR WASTE THERE BECAUSE THE WATER RESOURCES WOULD NOT BE PROTECTED. The technical experts were ignored and the license granted for political reasons under Governor Bush. This is the SAME SITE targeted for HIGH LEVEL WASTE from nuclear power across the country.  The threat to the water cannot be "SMALL" or "MODERATE."
NO DTF Dry Transfer Facility- There is no shielded facility to repackage damaged fuel or containers-- without a fuel pool, the only other option is a Dry Transfer Facility. There is no plan to build a Dry Transfer Facility, or a fuel pool. How can NRC believe there will never be a need to recontainerize aging nuclear fuel that is in aging containers, especially when they are out in the open exposed to severe heat, cold, hail, flooding, tornados, earthquakes, possible wildfires and other extremes.
The ISP Draft Environmental Impact Statement (DEIS) is Misleading, Incomplete and Denies or Ignores Reality. It:
--Fails to assess the additional risk to the country that one or more CIS sites will cause. Not all waste will be moved from all nuclear power reactors sites to ISP/WCS (or to the Holtec site proposed nearby) thus the CIS sites are ADDITIONAL sites requiring massive transport risks, with no guarantee that the sites sending the waste will really be cleaned up.
--Incorrectly assumes only 40 years of storage even though the waste could be at the site far longer than that, potentially indefinitely. The DEIS incorrectly assumes there will be a permanent repository elsewhere, despite the only proposed permanent repository at Yucca Mountain having been rightly cancelled in 2010. The ISP/WCS application does not provide protections for long term or permanent isolation and the DEIS ignores this. The more-likely reality—i.e., that the waste will be at the site for much longer than the 40-year license period—is not addressed in the DEIS. This puts the air, water, soil and ecosystem at long term risk from radioactivity.
--Incorrectly assumes all waste and containers that arrive will be intact and waste will not need to be re-containerized for the decades it will remain at the WCS ISP site. The DEIS fails to address what happens when waste must be repackaged. The application and the DEIS should require a wet or dry transfer facility to shield the intensely radioactivity so it can be repaired or transferred to new containers. Workers, passers-by and the environs could receive massive, potentially lethal, gamma doses in that scenario--yet no assessment is provided in the DEIS.
--Fails to address the environmental impacts of returning damaged containers of high-level radioactive waste if they arrive in unacceptable condition. ISP's plan is to "return to sender" with no analysis of the logically higher risk of transporting failed fuel and/or containers twice.
--Ignores potential higher risks from damaged fuel and high burnup fuel. 
--Fails to acknowledge or respect the institutional racism in selecting the ISP WCS site in West Texas. 
-- Fails to acknowledge impacts on all transport routes to the site. I call on NRC to hold in-person DEIS meetings all along the potential routes and to extend the comment period until six months after the COVID-19 crisis ends.
More talking points can be found at 
THANKS-- any questions please contact
This email address is being protected from spambots. You need JavaScript enabled to view it.
This email address is being protected from spambots. You need JavaScript enabled to view it.
UNSAFE AT ANY SPEED - Lawsuit challenges plan to use road and rail routes through 45 states and DC to haul 10,000 high-risk irradiated nuclear waste shipments (most of them from Eastern U.S.) all the way to New Mexico. http://ow.ly/lBDp30qT60s #nuclear #nuclearenergy #radiation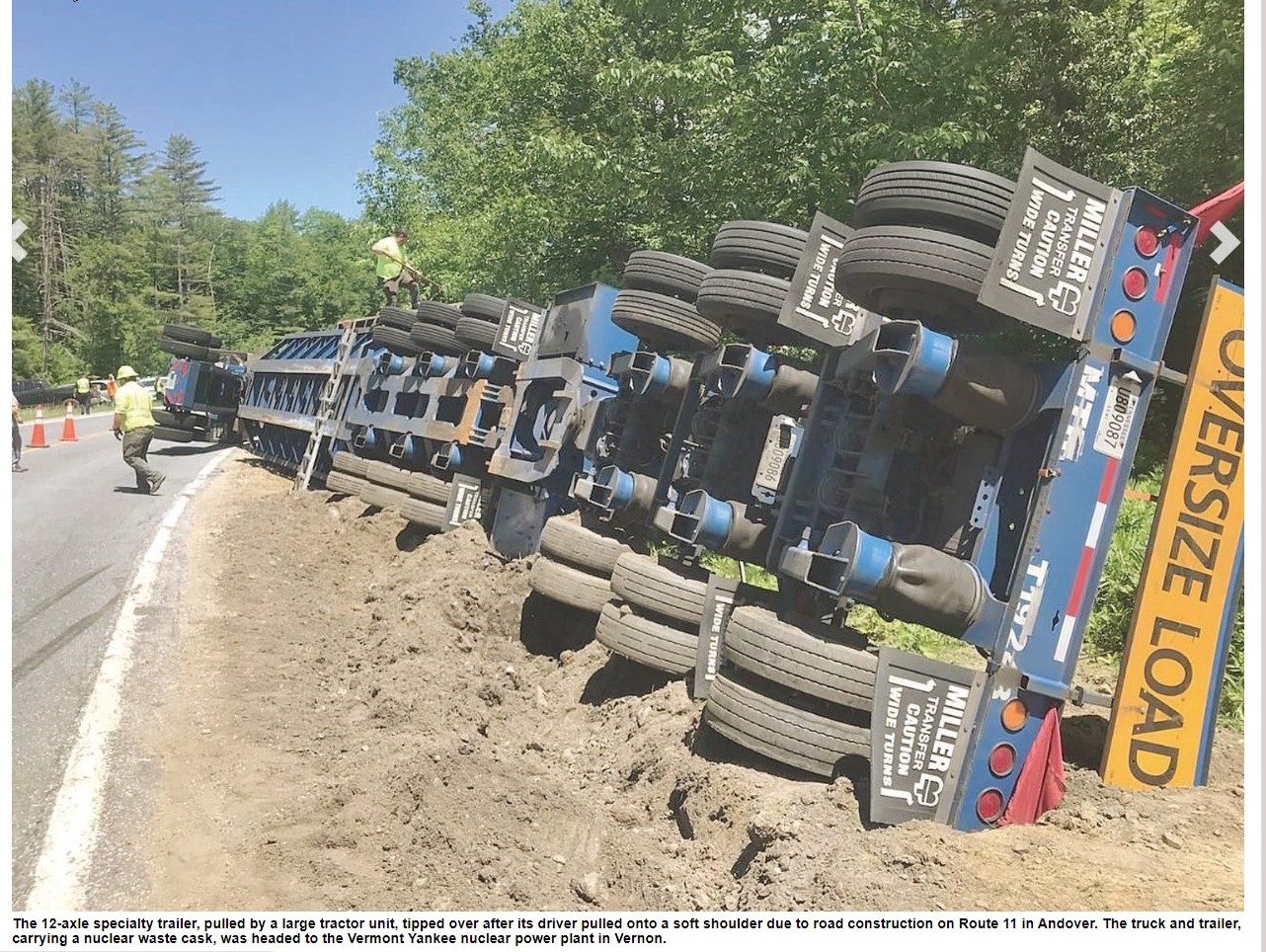 Source:  Beyond Nuclear http://www.beyondnuclear.org/

NEWS FROM BEYOND NUCLEAR

For immediate release

Contact:

Diane Curran, Harmon, Curran, Spielberg + Eisenberg, LLP, (240) 393-9285, This email address is being protected from spambots. You need JavaScript enabled to view it. 

Mindy Goldstein, Director, Turner Environmental Law Clinic, Emory University School of Law, (404) 727-3432, This email address is being protected from spambots. You need JavaScript enabled to view it. 

Kevin Kamps, Radioactive Waste Specialist, Beyond Nuclear, (240) 462-3216, This email address is being protected from spambots. You need JavaScript enabled to view it. 

Stephen Kent, KentCom LLC, (914) 589 5988, This email address is being protected from spambots. You need JavaScript enabled to view it.
BEYOND NUCLEAR FILES FEDERAL LAWSUIT CHALLENGING HIGH-LEVEL RADIOACTIVE WASTE DUMP FOR ENTIRE INVENTORY OF U.S. "SPENT" REACTOR FUEL   

Petitioner charges the Nuclear Regulatory Commission knowingly violated U.S. Nuclear Waste Policy Act
and up-ended settled law prohibiting transfer of ownership of spent fuel to the federal government until a
 permanent underground repository is ready to receive it
[WASHINGTON, DC – June 4, 2020] --
Today the non-profit organization Beyond Nuclear filed an appeal with the U.S. Court of Appeals for the District of Columbia Circuit requesting review of an  April 23, 2020 order and an October 29, 2018 order by the U.S. Nuclear Regulatory Commission (NRC), rejecting challenges to Holtec International/Eddy-Lea Energy Alliance's application to build a massive "consolidated interim storage facility" (CISF) for nuclear waste in southeastern New Mexico. Holtec proposes to store as much as 173,000 metric tons of highly radioactive irradiated or "spent" nuclear fuel – more than twice the amount of spent fuel currently stored at U.S. nuclear power reactors – in shallowly buried containers on the site.   
But according to Beyond Nuclear's petition, the NRC's orders "violated the Nuclear Waste Policy Act and the Administrative Procedure Act  by refusing to dismiss an administrative proceeding that contemplated issuance of a license permitting federal ownership of used reactor fuel at a commercial fuel storage facility."
Since it contemplates that the federal government would become the owner of the spent fuel during transportation to and storage at its CISF, Holtec's license application should have been dismissed at the outset, Beyond Nuclear's appeal argues. Holtec has made no secret of the fact that it expects the federal government will take title to the waste, which would clear the way for it to be stored at its CISF, and this is indeed the point of building the facility. But that would directly violate the 1982 Nuclear Waste Policy Act (NWPA), which prohibits federal government ownership of spent fuel unless and until a permanent underground repository is up and running.  No such repository has been licensed in the U.S. The U.S. Department of Energy's (DOE) most recent estimate for the opening of a geologic repository is the year 2048 at the earliest.
In its April 23 decision, in which the NRC rejected challenges to the license application, the four NRC Commissioners admitted that the NWPA would indeed be violated if title to spent fuel were transferred to the federal government so it could be stored at the Holtec facility.  But they refused to remove the license provision in the application which contemplates federal ownership of the spent fuel. Instead, they ruled that approving Holtec's application in itself would not involve NRC in a violation of federal law, and that therefore they could go forward with approving the application, despite its illegal provision. According to the NRC's decision, "the license itself would not violate the NWPA by transferring the title to the fuel, nor would it authorize Holtec or [the U.S. Department of Energy] to enter into storage contracts." (page 7). The NRC Commissioners also noted with approval that "Holtec hopes that Congress will amend the law in the future." (page 7).
"This NRC decision flagrantly violates the federal Administrative Procedure Act (APA), which prohibits an agency from acting contrary to the law as issued by Congress and signed by the President," said Mindy Goldstein, an attorney for Beyond Nuclear. "The Commission lacks a legal or logical basis for its rationale that it may issue a license with an illegal provision, in the hopes that Holtec or the Department of Energy won't complete the illegal activity it authorized. The buck must stop with the NRC."   
"Our claim is simple," said attorney Diane Curran, another member of Beyond Nuclear's legal team. "The NRC is not above the law, nor does it stand apart from it."
According to a 1996 D.C. Circuit Court ruling, the NWPA is Congress' "comprehensive scheme for the interim storage and permanent disposal of high-level radioactive waste generated by civilian nuclear power plants" [Ind. Mich. Power Co. v. DOE, 88 F.3d 1272, 1273 (D.C. Cir. 1996)]. The law establishes distinct roles for the federal government vs. the owners of facilities that generate spent fuel with respect to the storage and disposal of spent fuel. The "Federal Government has the responsibility to provide for the permanent disposal of … spent nuclear fuel" but "the generators and owners of … spent nuclear fuel have the primary responsibility to provide for, and the responsibility to pay the costs of, the interim storage of … spent fuel until such … spent fuel is accepted by the Secretary of Energy" [42 U.S.C. § 10131]. Section 111 of the NWPA specifically provides that the federal government will not take title to spent fuel until it has opened a repository [42 U.S.C. § 10131(a)(5)].  
"When Congress passed the Nuclear Waste Policy Act and refused to allow nuclear reactor licensees to transfer ownership of their irradiated reactor fuel to the DOE until a permanent repository was up and running, it acted wisely," said Kevin Kamps, radioactive waste specialist for Beyond Nuclear. "It understood that spent fuel remains hazardous for millions of years, and that the only safe long-term strategy for safeguarding irradiated reactor fuel is to place it in a permanent repository for deep geologic isolation from the living environment. Today, the NWPA remains the public's best protection against a so-called 'interim' storage facility becoming a de facto permanent, national, surface dump for radioactive waste. But if we ignore it or jettison the law, communities like southeastern New Mexico can be railroaded by the nuclear industry and its friends in government, and forced to accept mountains of forever deadly high-level radioactive waste other states are eager to offload."
In addition to impacting New Mexico, shipping the waste to the CISF site would also endanger 43 other states plus the District of Columbia, because it would entail hauling 10,000 high risk, high-level radioactive waste shipments on their roads, rails, and waterways, posing risks of radioactive release all along the way.
Besides threatening public health and safety, evading federal law to license CISF facilities would also impact the public financially. Transferring  title and liability for spent fuel from the nuclear utilities that generated it to DOE would mean that federal taxpayers would have to pay for its so-called "interim" storage, to the tune of many billions of dollars.  That's on top of the many billions ratepayers and taxpayers have already paid to fund a permanent geologic repository that hasn't yet materialized. 
But that's not to say that Yucca Mountain would be an acceptable alternative to CISF. "A deep geologic repository for permanent disposal should meet a long list of stringent criteria: legality, environmental justice, consent-based siting, scientific suitability, mitigation of transport risks, regional equity, intergenerational equity, and safeguards against nuclear weapons proliferation, including a ban on spent fuel reprocessing," Kamps said. "But the Yucca Mountain dump, which is targeted at land owned by the  Western Shoshone in Nevada, fails to meet any of those standards.  That's why a coalition of more than a thousand environmental, environmental justice, and public interest organizations, representing all 50 states, has opposed it for 33 years."
Kamps noted that the U.S. Court of Appeals for the District of Columbia Circuit has upheld the NWPA before, including in the matter of inadequate standards for Yucca Mountain.  In its landmark 2004 decision in Nuclear Energy Institute v. Environmental Protection Agency, it wrote, "Having the capacity to outlast human civilization as we know it and the potential to devastate public health and the environment, nuclear waste has vexed scientists, Congress, and regulatory agencies for the last half-century."  The Court found the U.S. Environmental Protection Agency's insufficient 10,000-year standard for Yucca Mountain violated the NWPA's requirement that the National Academy of Sciences' recommendations must be followed, and ordered the EPA back to the drawing board. In 2008, the EPA issued a revised standard, acknowledging a million-year hazard associated with irradiated nuclear fuel and high-level radioactive waste. Even that standard falls short, Kamps said, because certain radioactive isotopes in spent fuel remain dangerous for much longer than that.  Iodine-129, for example, is hazardous for 157 million years. 
NOTE TO EDITORS AND PRODUCERS:  Sources quoted in this release are available for comment.  For a copy of the petition filed today, to arrange interviews or for other information, please contact Stephen Kent, This email address is being protected from spambots. You need JavaScript enabled to view it., 914-589-5988
-30-
Beyond Nuclear is a 501(c)(3) nonprofit membership organization. Beyond Nuclear aims to educate and activate the public about the connections between nuclear power and nuclear weapons and the need to abolish both to safeguard our future. Beyond Nuclear advocates for an energy future that is sustainable, benign and democratic. The Beyond Nuclear team works with diverse partners and allies to provide the public, government officials, and the media with the critical information necessary to move humanity toward a world beyond nuclear. Beyond Nuclear: 7304 Carroll Avenue, #182, Takoma Park, MD 20912. This email address is being protected from spambots. You need JavaScript enabled to view it.. www.beyondnuclear.org.

Why should NM store nation's nuclear waste?
By Laura Watchempino / Multicultural Alliance For A Safe Environment, 
Pueblo Of Acoma
Friday, April 3rd, 2020 at 12:02am

If the Nuclear Regulatory Commission's conclusion that it's safe to move 
spent nuclear fuel from nuclear power plants across the country to a 
proposed storage facility in Lea County sounds vanilla-coated, it's 
because the draft environmental impact statement for a Consolidated 
Interim Storage Facility submitted by Holtec International did not 
address how the casks containing the spent fuel would be transported to 
New Mexico.

It's likely the casks would be transported primarily by rail using aging 
infrastructure in need of constant repair. But our rail systems were not 
built to support the great weight of these transport casks containing 
thin-wall fuel storage canisters.

Nor was the potential for cracked or corroded canisters to leak 
radiation studied because an earlier NRC Generic EIS for the Continued 
Storage of Spent Nuclear Fuel assumed damaged fuel storage canisters 
would be detected during an intermediary dry transfer system or a pool. 
But Holtec's proposal only addresses a new destination for the 
high-level nuclear waste – not the removal and transport of the fuel 
storage canisters from nuclear power plants to New Mexico.

Even transport casks with canisters that are not damaged will release 
radiation as they are transported from nuclear power plants to the 
storage facility, exposing populations along the transport routes in a 
majority of states and tribal communities in New Mexico to repeated 
doses of radiation.

Other issues not considered in the draft EIS were the design life of the 
thin-wall canisters encasing the nuclear fuel rods and faulty 
installation at reactor sites like San Onofre, or the self-interest of 
the Eddy-Lea Energy Alliance in using the land it acquired for a 
consolidated interim storage site.

Thin-wall canisters cannot be inspected for cracks and the fuel rods 
inside are not retrievable for inspection or monitoring without 
destroying the canister. NRC does not require continuous monitoring of 
the storage canisters for pressure changes or radiation leaks. The fuel 
rods inside the canisters could go critical, or result in an 
uncontrolled nuclear chain reaction, if water enters the canisters 
through cracks, admits both Holtec and the NRC. None of us are safe if 
any canister goes critical.

Yet a site-specific storage application like Holtec's should have 
addressed NRC license requirements for leak testing and monitoring, as 
well as the quantity and type of material that will be stored at the 
site, such as low burnup nuclear fuel and high burnup fuel.

With so many deficiencies in the draft EIS, a reasonable alternative is 
to leave this dangerous radioactive nuclear waste at the nuclear plants 
that produced it in dry cask storage rather than multiply the risk by 
transporting thousands of containers that could be damaged across many 
thousands of miles and decades to southeastern New Mexico, then again to 
a permanent repository.

Interim storage of spent nuclear fuel at existing nuclear plant sites is 
already happening – there are 65 sites with operating reactors in the 
United States and dry cask storage is licensed at 35 of these sites in 
24 states. But since the thin-wall canisters storing the fuel rods are 
at risk for major radioactive releases, they should be replaced with 
thick-walled containers that can be monitored and maintained. The 
storage containers should be stored away from coastal waters and flood 
plains in hardened buildings.

Attempting to remove this stabilized nuclear waste from where it is 
securely stored across hundreds or thousands of miles through our 
homelands and backyards to a private storage facility also raises some 
thorny liability issues, since the United States will then be relieved 
of overseeing the spent nuclear fuel in perpetuity. The states and 
nuclear plants that want to send us their long-lived radioactive waste 
will also be off the hook, leaving New Mexico holding a dangerously 
toxic bag without any resources to address the gradual deterioration of 
man-made materials or worse, a catastrophic event. It's a win/win, 
however, for Holtec International and the Eddy-Lea Energy Alliance.

Environmental justice footnote: When removal of uranium mine waste on 
the Navajo Nation was being discussed a few years ago, communities got 
this response from EPA: Digging up the waste and transporting it to a 
licensed repository in different states outside the Navajo Nation – 
which has always been the Nation's preferred alternative – is the most 
expensive option. "Off-site disposal, because of the amount of waste in 
and around these areas, means possibly multiple years of hundreds and 
hundreds and hundreds of trucks going in and out of the community and 
driving for miles."

.